The only Hot Tub on the market that heats up
in 2 hours
Heating time from 7°C to 38°C is around 2 hours  for a hot tub with a water volume of 1,500 l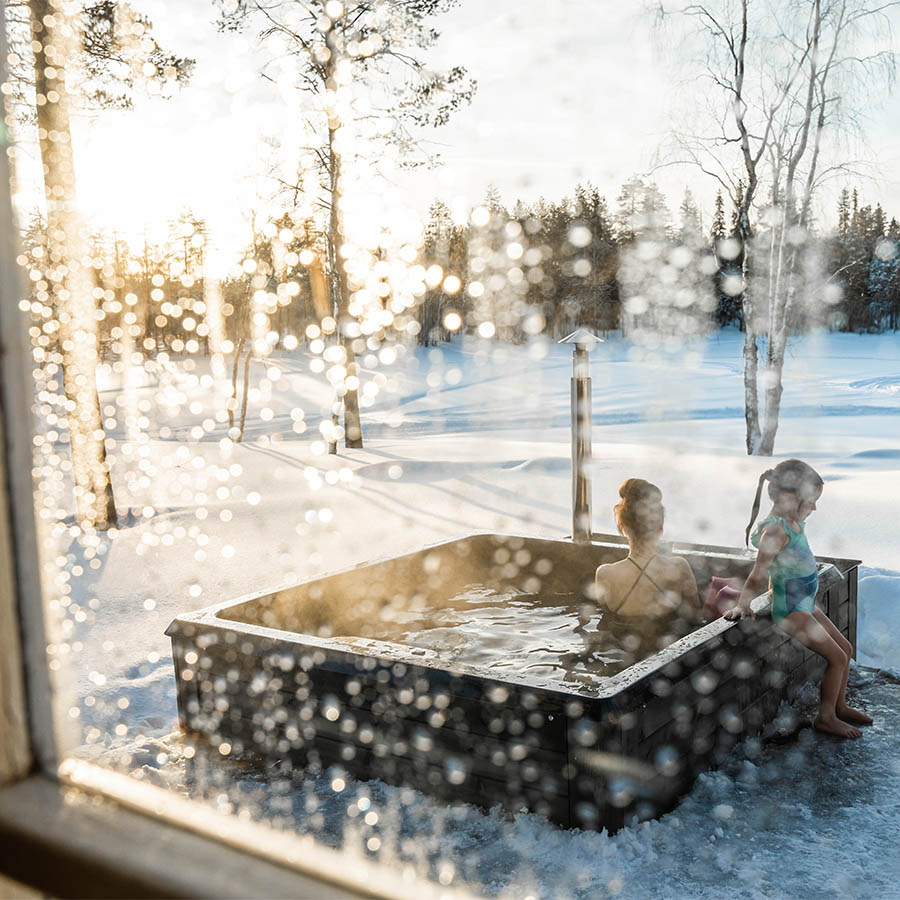 Rexener fiberglass hot tubs are worked on with years of experience – as a Finnish handicraft. It can be seen in the uncompromising quality and in work honed to the last.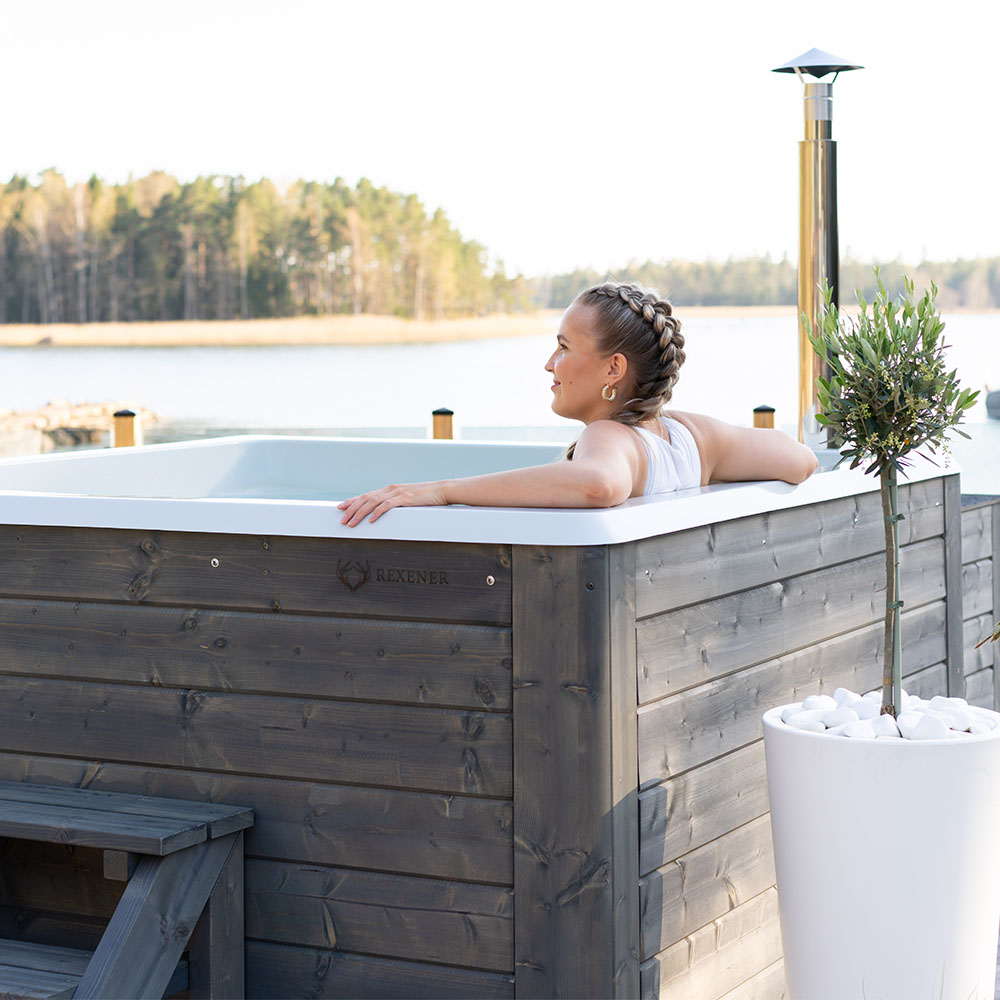 Our popular square Rexener hot tubs can offer a range of possibilities. They are easy to embed in a terrace, feature good ergonomics, and are comfortable to sit in. You can fit up to eight people at once in our square pools.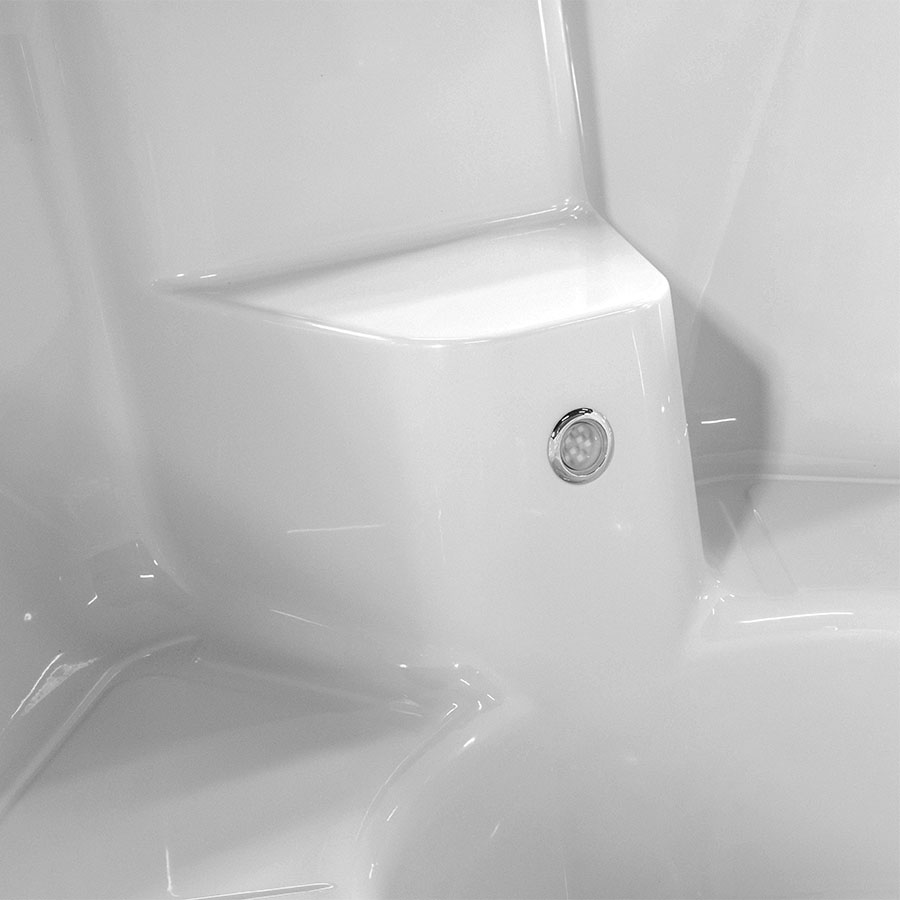 To us, it's important that our hot tubs last. We have therefore minimised the number of accessories and unnecessary parts, making our hot tubs easy to maintain. If you wish, you can maintain your hot tub on your own. We also provide a maintenance service.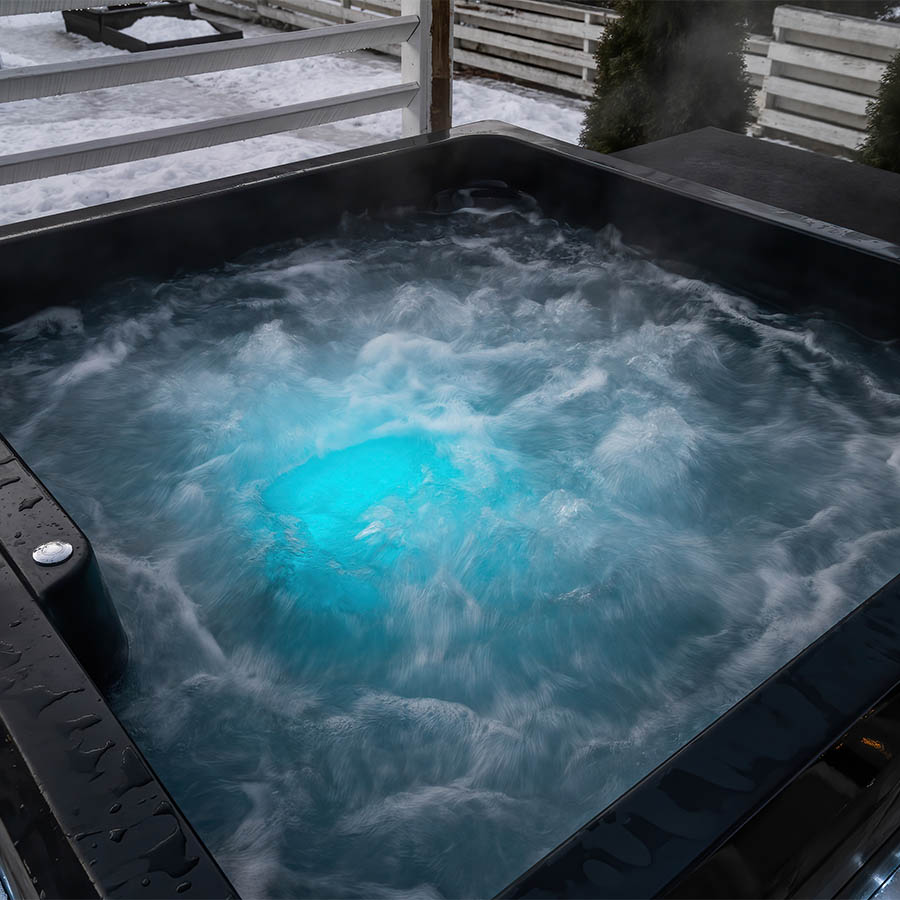 Its economical pool has a relatively low water volume of ca. 1,300–1,500 litres. If you wish, you can also draw the water from a lake or the sea.
WHICH REXENER HOT TUB
IS SUITABLE FOR YOUR NEEDS?
The bubbles and modern atmosphere of a whirlpool bath. All this is crowned by LED lighting, which brings out the colour of the refreshing water.
7.390 £
Colour options: Gabro Black or Arctic White
Water capacity 1,300–1,500 litres
Chemical dispenser : Integrated
Circulating water pump : Yes
Illumination : LED light with remote control
Jet system : Yes, with preheater (does not blow cold air into the pool in winter)
Rexener Aurora heats up quickly and easily. The snow-white Arctic White pool invites bathers to slip into its waters. LED lighting illuminates the pool water beautifully.
6.590 £
Colour options: Arctic White
Water capacity 1,300–1,500 litres
Chemical dispenser : Integrated
Circulating water pump : Yes
Illumination : LED light with remote control
Rexener Silence respects the traditions of hot tubs in many ways. The high-quality dark fibreglass pool handmade in Finland is lined with dark grey Finnish spruce panels.
5.099 £
Colour options: Gabro Black
Water capacity : 1,300–1,500 litres
Heater : Rexener Wood Heater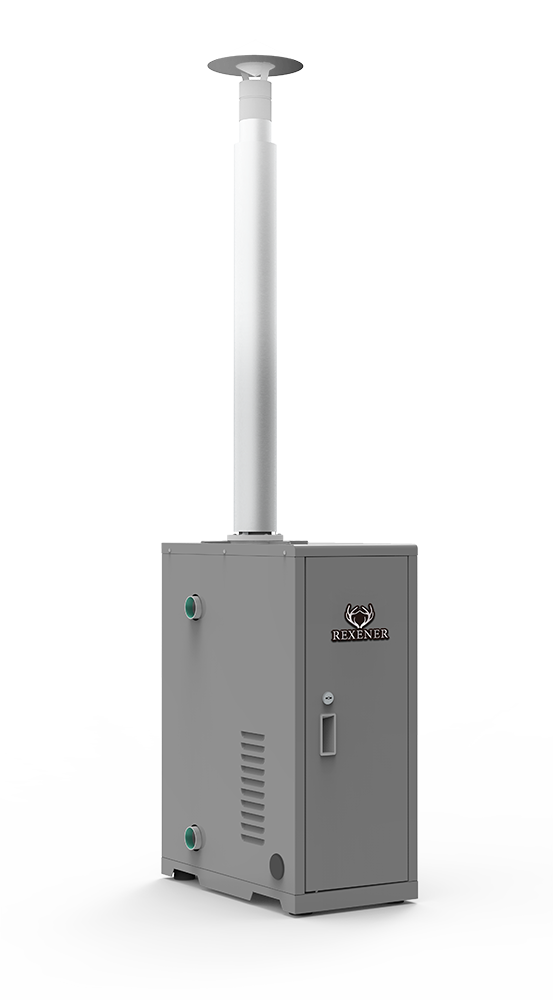 A SOLUTION TO
REDUCE ELECTRICITY CONSUMPTION!
Rexener Bioheater is the most efficient pool heater on the market. It's the only heater that will warm up
your hot tub in two hours and keep a stable water temperature.
Rexener Bioheater is also used as the heat source in the Rexener Aurora and Rexener Polar hot tubs.
User TESTIMONIALS
- BIO WATER HEATER
Rexener
Accessories and Options
Our hot tub products and accessories are highly reliable, and all spare parts are available at our warehouse in Finland.
This magical bench makes wonders to your everyday life, abracadabra and a standard sized drink pops out of the seat right in your hand.
›› Other Equipment and Accessories
Wooden Heater Unit, Covers Installation Kit, Circulating Water Pump, Mass Filter, Timer, Spare Parts etc.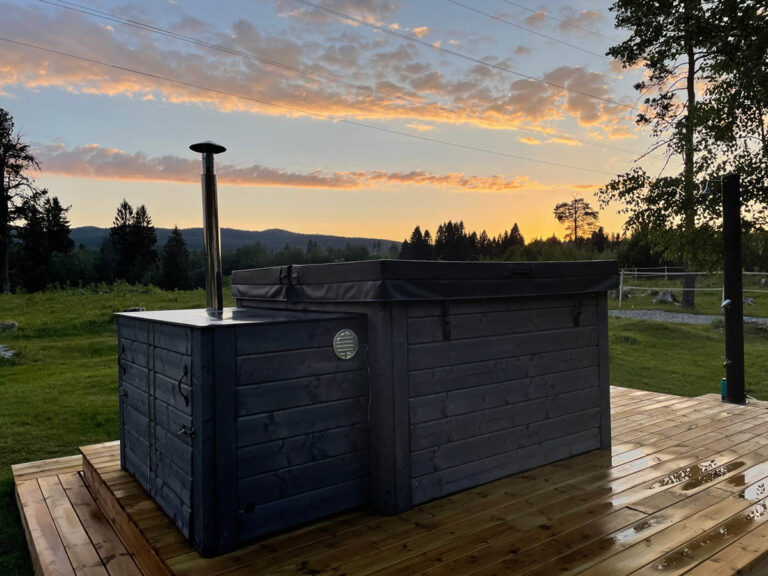 Trond, who works in Rex Nordic's sales team, placed a Rexener hot tub in his own yard and has been very pleased with it. It's a completely insane experience of how fast it is possible to heat such large amounts...
Read More
IT ALL STARTED
WITH A DREAM
Story of the Rexener hot tubs
The story of the Rexener hot tubs began with one man's dream. A lot of thinking, planning, parts manufacture, trial and error. This is how the first handmade hot tub was made, from Finnish raw materials, at Sarininkulma in Rekijoki. In the garage of a house by the forest, a happy hot tub maker grinned broadly
Quality first
The premium, handmade fibreglass hot tub found its niche in a market saturated with mass-produced products. Its uncompromising quality and level of finish said it all. Every hot tub manufactured and sold brought new customers at an increasing rate.
TK Kylpytynnyrit changes name to Rexener Hot Tubs
Even with all the Finnish "sisu" in play, more than 300 hot tubs in one year began to take its toll on the one-man workshop. The time had come to take the next step towards conquering the world. With Rex Nordic, the one-man workshop developed into a Nordic team of more than 20 people, who are now building the story of the best hot tubs in the market for future generations.
Inspired by northern nature
Rexener hot tubs take their colours from the building materials of the idyllic Northern landspace – white snow and the black granite stone of the North, Gabro. Rexener hot tubs have an outer shell that is made of lichen grey Northern wild spruce.