USER MANUAL PDF

Airrex AH-200 is our smallest fuel-fired diesel heater. The AH-200 heater is ideal for garages, summer cottages and terraces.
This heater does not emit burning smells or visible smoke. An exhaust pipe to the outside is only necessary when the heater is used in premises where people sleep. There is no need to connect a separate exhaust pipe to the Airrex AH-200 infrared heater when using the heater in garages, terraces, tents, etc.
The AH-200 heater can run on Neste MY biodiesel, which is made from food waste, and on normal diesel and fuel oil. Winter edition of the fuel should be used at temperatures below 10°C.
The Airrex AH-200 diesel heater is extremely inexpensive to use. On full power, the heater only uses about one litre of fuel per hour.
This infrared heater has no fan. The infrared radiation produced by the device heats materials, not air. The infrared heat is distributed evenly in all directions and feels pleasant even right next to the heater. The infrared heat produced by Airrex AH-200 spreads more evenly than heat produced by a fan-equipped heater.
The Airrex AH-200 heater has 12 different safety systems, which makes it an extremely safe heater. The heater is very easy to start using because fixed installation is not required. The heater is on castor wheels, which makes it easy to move where you want it. Airrex AH-200 is extremely quiet at only 48 dB.
The Airrex AH-200 heater has a one-year factory warranty. You can extend the warranty to three years for free by activating the additional warranty in the online service.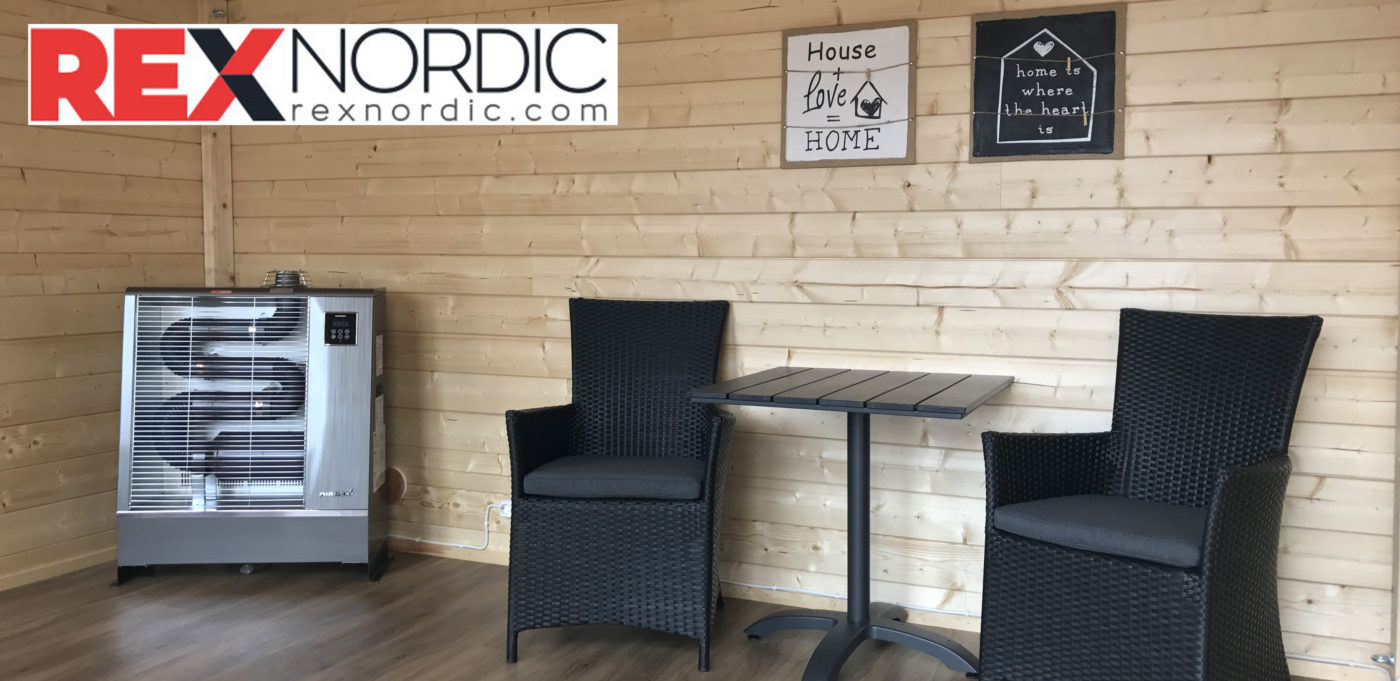 Technical introduction
The device has an oil burner equipped with an electric fuel pump, which recycles the exhaust through pipes with ceramic coatings, giving out the heat as infrared radiation.
The triple combustion process guarantees completely pure combustion; the heater does not need a separate exhaust pipe, which conserves all heat for utilisation. Normal ventilation is sufficient.
    Odourless burner
Normally, the fuel that enters the combustion chamber of heaters after they are switched off generates soot and unpleasant odours. According to laboratory tests, the fuel injection of Airrex heaters cuts off very quickly, minimising the formation of soot and odours.

    An exhaust pipe that saves energy and eliminates odours
A metal honeycomb installed inside the combustion chamber burns residual gases and ensures efficient and steady combustion. The 75/100/165-millimetre alternating diameter of the tubular combustion chamber makes the combustion more efficient and minimises the amount of non-combusted gases. The rubber tube for inlet air ensures the supply of fresh air to the burner, which also improves the efficiency of combustion.
    Extremely effective noise reduction
The noise reduction system in the exhaust pipe, which compresses and expands the exhaust gases, makes Airrex extremely quiet (only 48 dB).

    Airrex is an extremely safe heater with 12 safety systems:
Ignition safety system

Flame guard

Fall sensor that switches off the heater

Overheating prevention

Safety system that recognises power outages

Fuse

Burner protection

Fuel level monitor

Temperature sensor fault detector

Motor start helper

Device lock

Programmable switch-off (user can program)